Christmas is a special date for many and family union. Gifts are also part of this special date, but there is a detail that many have gotten used to since they were little and it is the new outfit for this day.
Trends in clothing vary every year and without a doubt the dates in which we want to look our best are our birthdays, Christmas and New Year. If you have no idea what will be the most 'chic' for Christmas Eve, don't worry, here we will show you several top options for this year.
Without a doubt one of the colors that stand out the most on this date is red and it also occurs in clothing. Another of the colors is gold, earth tones, green, hot pink (fuchsia and derivatives), pastel pink, baby blue and of course the inevitable and classic black and white.
These are the trending looks for this Christmas 2021.
Jumpsuits or jumpsuits.
Jumpsuits are always in trend, but this year they dared to come out with some varieties. There are long, short, palate, skinny, capri, monochrome, patterned, with and without neckline, with and without leg opening, with ties, straps, and more. This option is one of the best because it will not only make you look elegant, but it will give you security when moving and scrolling.
Short top or blazer and shorts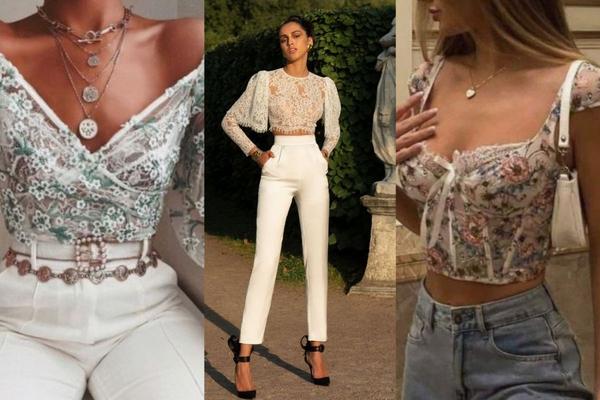 Taking into account the change of climate that exists in Peru, since December 21 would enter the summer season, this outfit is the right one. If you are at a family gathering at home, the ideal is a short blazer that is very fashionable, but if you are at the beach the best option is a top. The basic color is red.
Sequins (without abusing)
If you think sequins are just for a club party, think again. Of course, on this date the ideal is to use a garment and not the complete outfit full of sequins. If the top or coat is made of this material, the bottom part has to maintain sobriety, it can be a jean, jean shorts, skirt, pants or leather shorts. The colors you should choose should be between gold, red, white, black, and green. If you choose green or red it is necessary to accentuate the color with other garments.
Total white
One of the basic options for Christmas is a total look and the perfect ally is white. This color adapts to any moment and to give it a special touch and it does not seem that you are spending the summer on Christmas Eve, add gold necklaces and earrings and an earth-colored handbag.
Short skirt with tights
Here it is important to mention the type of skirt. The trending skirts are the square ones (Welsh type), those with A-line folds and those with buttons or straps to one side. These skirts go perfect with long tights and ankle boots or, in the best of cases, you can use tall and long boots.
Short or cocktail type dresses
Here you must know how to choose between the short party dresses at the disco and the cocktail ones. Remember that the main characteristic is that they have a well-defined waist. As a first option we would have the velvety, silk or satin. The texture and cut of these garments will form a wonderful silhouette of your body and you will also look fabulous and elegant.
Garments with subtle lace
Lace will always be elegant and sexy, but remember that less is better. If you wear a garment with lace, it must be very subtle and delicate, avoid exaggerating.
CONTINUE READING
How to decorate your Christmas tree according to your zodiac sign? Wedding guests: 6 tips for choosing an elegant and canchero party look Vibrant and intense colors, the new style imposed by Meghan Markle
RELATED TOPICS
PERU-NEWSPeruChristmasLooksTrend
MORE LEIDAS AMERICA
This is Habacilar: Roger del Águila tears up a 100 soles bill and gives it to teams that tied
Did he go crazy? Instead of changing the 100 soles bill to distribute it equally, Roger del Águila decided to tear it up.
The US affirmed that the arrival of Xiomara Castro to the Honduran presidency represents a "positive change"
US Vice President Kamala Harris held a meeting with the new Honduran president, with whom he discussed various issues such as immigration, the fight against corruption and the economic situation
Carlos Jaico, presidential secretary, met with Repsol officials this week, reveals an investigation< /h2>Latina Noticias confirmed this information. The appointment was not official nor has it been revealed what was discussed in it. From Hitler to Trump: when conspiracy theories feed back from realityFrom Nazism and the anti-Semitic pamphlet of the Elders of Zion to the Republican ultra-right: a book and two documentaries tell how these stories arise and are translated in political actionsSee Movistar TV Peru vs. Colombia LIVE match for QualifiersPeru faces Colombia for date 15 of the Qatar 2022 Qualifiers MORE NEWS